This Week in Nettleton Athletics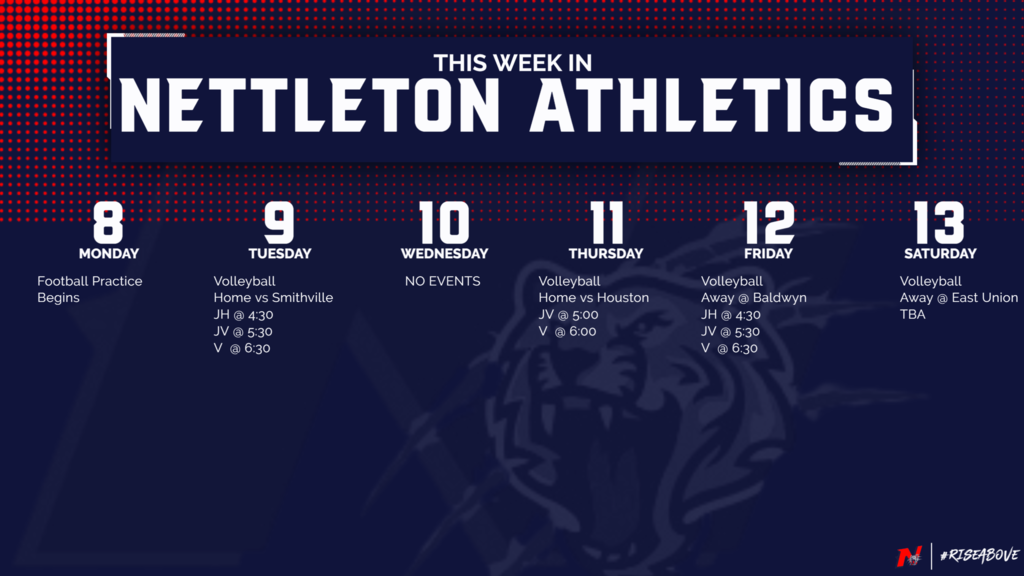 Drop off time for students begins at 7:15 AM.
Be sure to follow us on Twitter @Nettleton_SD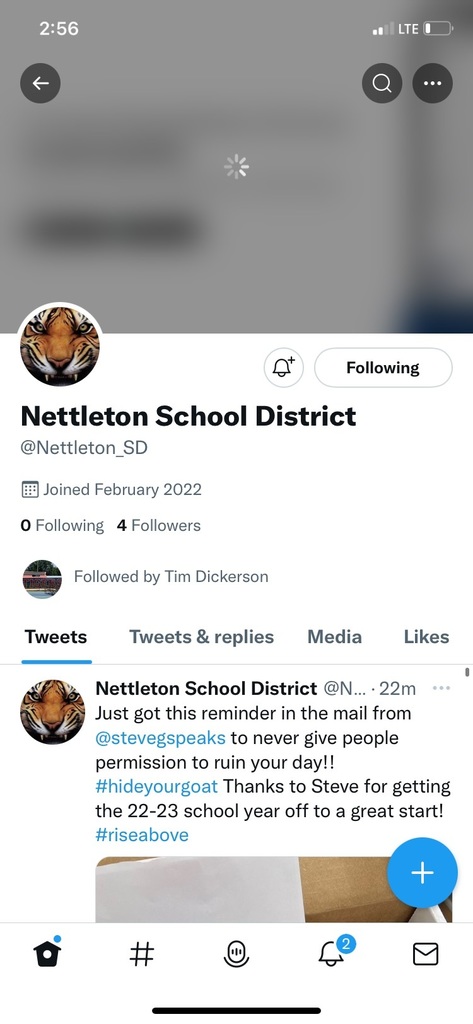 Just got this reminder in the mail from @stevegspeaks to never give people permission to ruin your day!! #hideyourgoat Thanks to Steve for getting the 22-23 school year off to a great start! #riseabove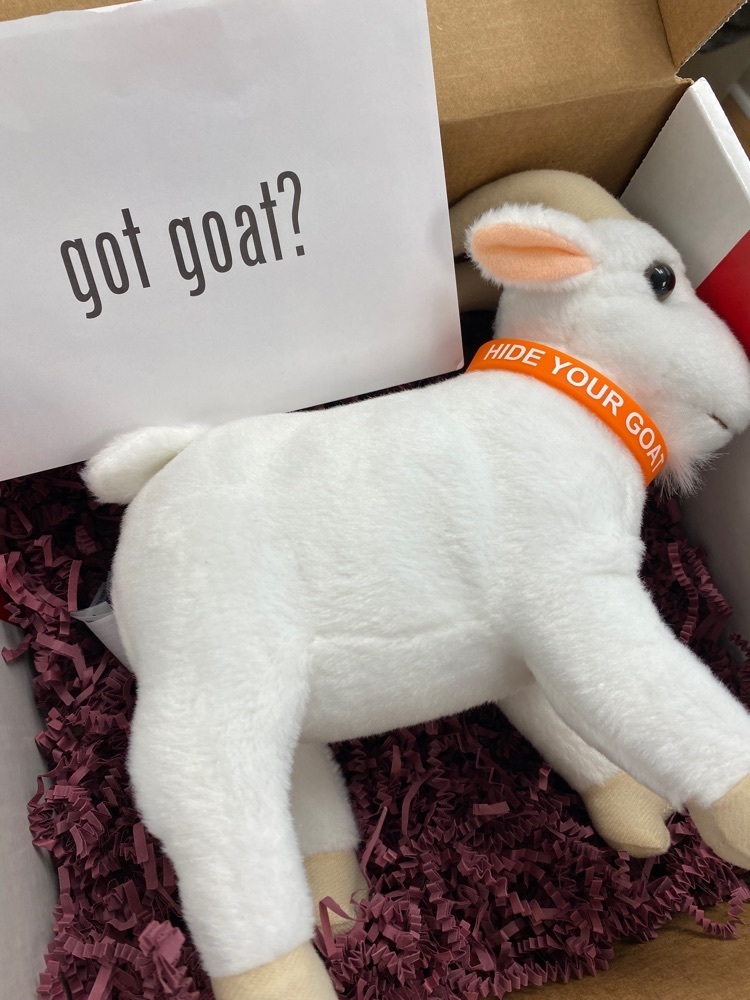 Some of our 2023 seniors think they are funny trying to sell Nettleton High School for $2023!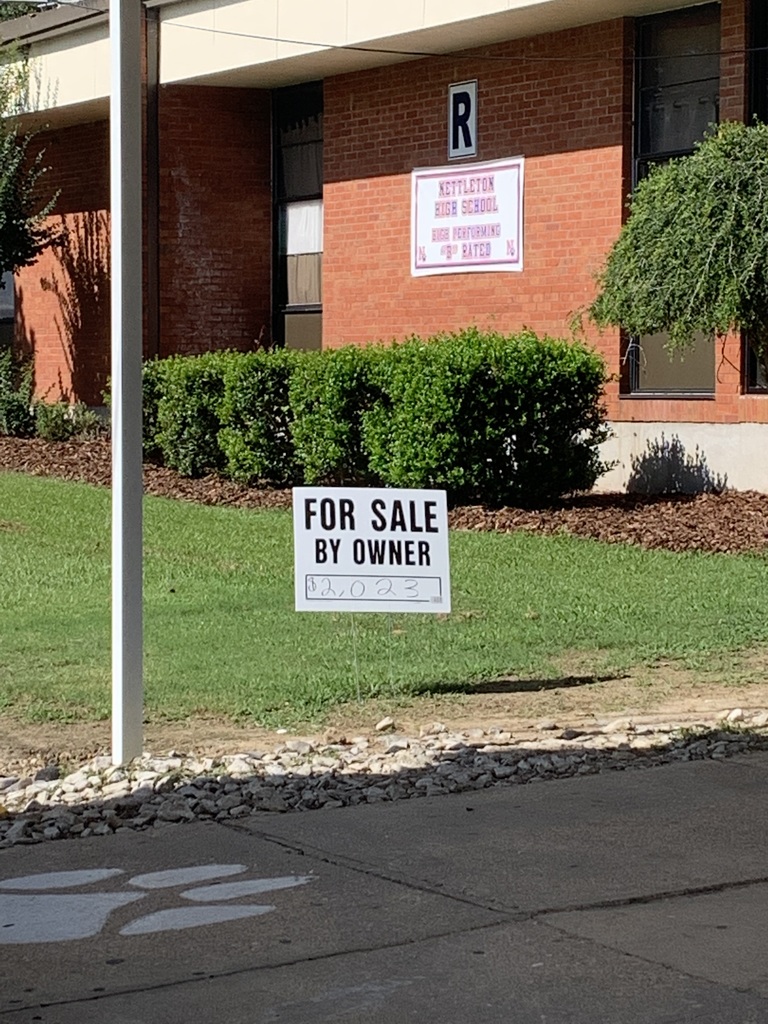 WIt and Wisdom prof dev for Nettleton Intermediate School... These ELA teachers are excited to get started! Thank you Korneeka James from south Louisiana for sharing your expertise! #RISEABOVE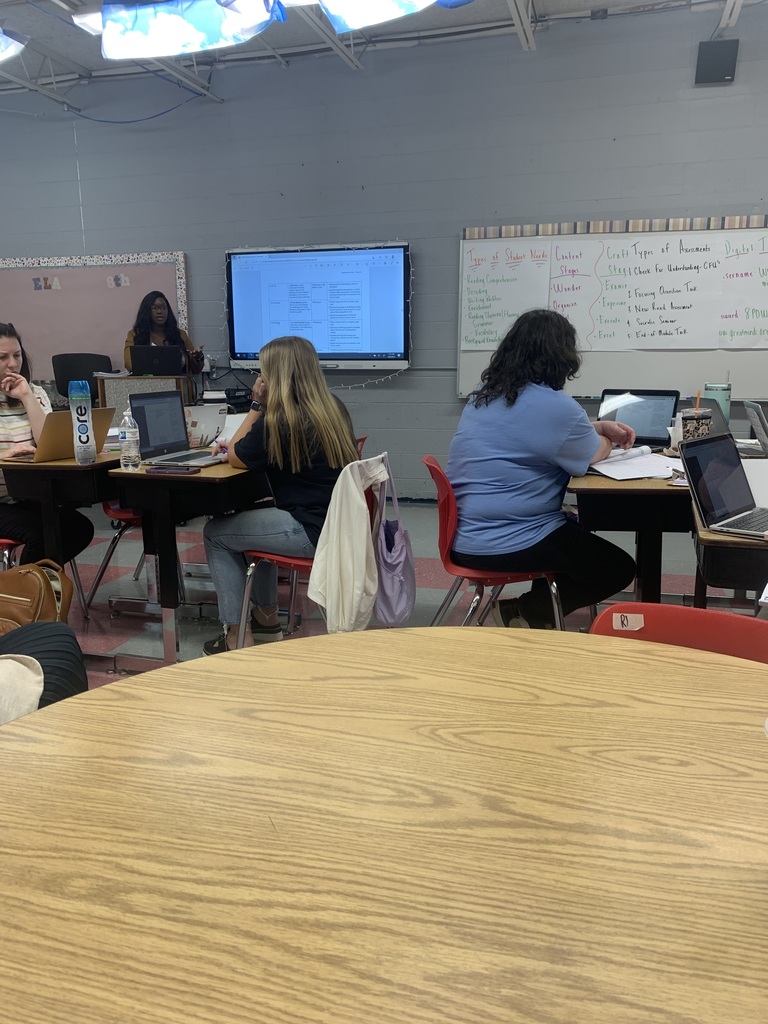 Welcome Back Students! We are very excited to see you on Friday!
The time has come! First day of professional development is Monday morning! It will be great to see all of our employees getting ready for the new school year. Good luck to all of you! Better yet, make your own good luck! #RISEABOVE
The Nettleton School District is selling All Sports Passes for $110 (cash or check only). This pass is good for only the person who purchases it and will allow that person to attend any HOME game for Nettleton events. Any person interested in buying a pass can do so at the central office. See Teresa Winters. The buyer's picture will be on the pass, so anyone getting a pass must come to the office to obtain the pass. ALL sporting events at Nettleton Schools will have a $6.00 admission.
Band Camp has begun! This is always an exciting scene to see some of our students back on campus preparing for the upcoming year!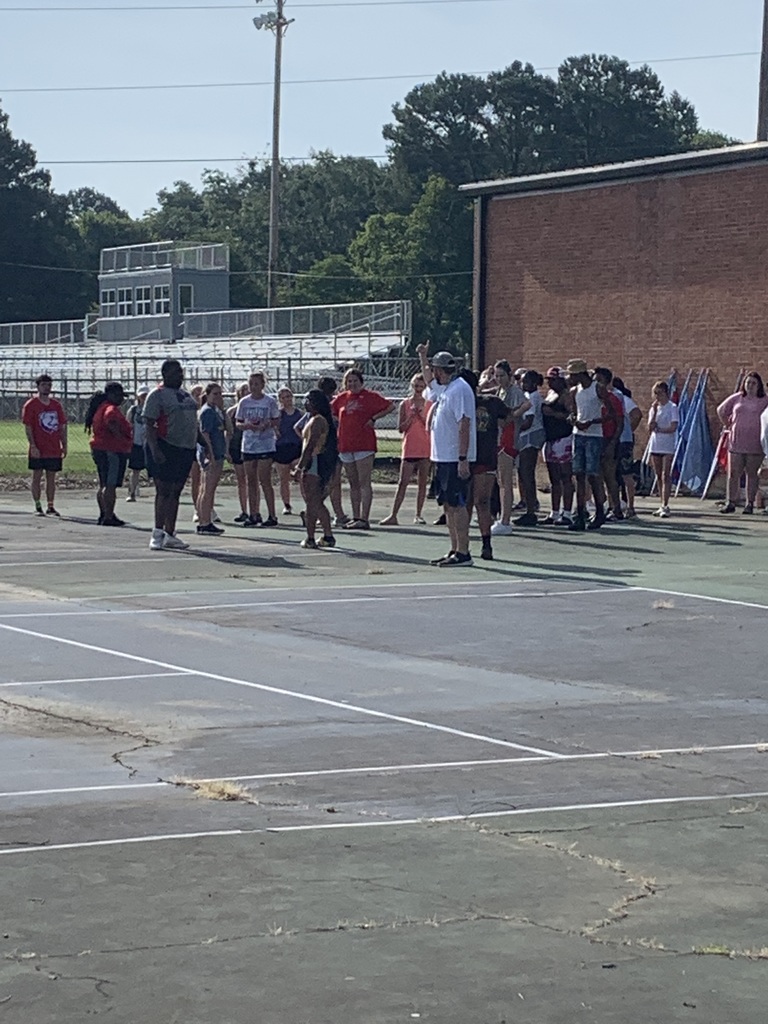 Congratulations to recent graduate Emma Mask for receiving the Walter S. Bounds Scholarship for Excellence given by the MS Association of School Superintendents at their annual summer conference! Her scholarship is in the amount of $1000. Ten seniors across the state (who applied) were chosen to receive this scholarship. We are very proud of Emma and look forward to seeing what her future holds!

Congratulations to NHS students Laynie Dodson and Isabella Brewer on being selected to the Northeast Mississippi Youth Foundation (NEMYF) Board of Directors for the 2022-2023 school year. NEMYF is a non-profit philanthropy organization comprised of juniors and seniors in high schools from 17 counties in northeast Mississippi. Throughout the year, the students give of their time and resources to better northeast Mississippi. Near the end of the year, having learned about the work of local charitable agencies, the students will select agencies to receive grants from NEMYF. We are very proud of Laynie and Isabella!!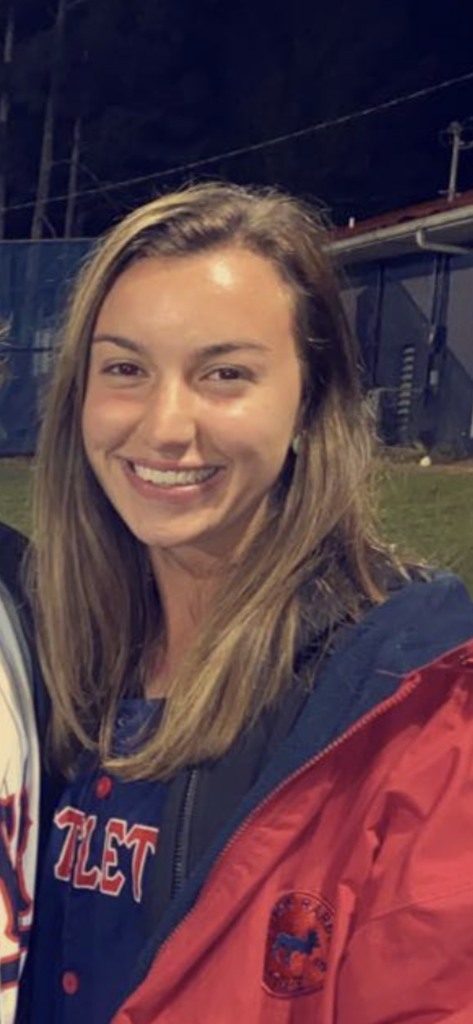 Congratulations to recent NHS graduate Connor Baulch on being selected for Steel Dynamics' new Apprenticeship program. As part of the program, Steel Dynamics will pay for Connor to attend East Mississippi Community College at their Communiversity campus. As soon as classes are done each day, he will go to Steel Dynamics, where he will be paid as an apprentice working with an assigned mentor. This will be a great opportunity for Connor, and we are very proud of him!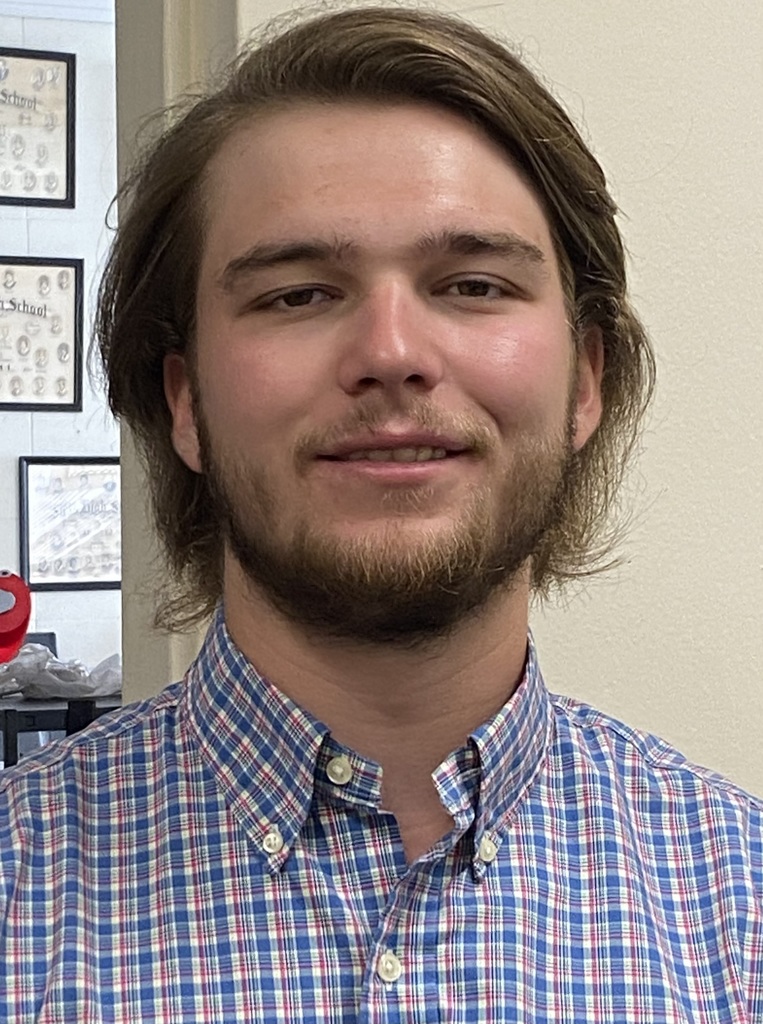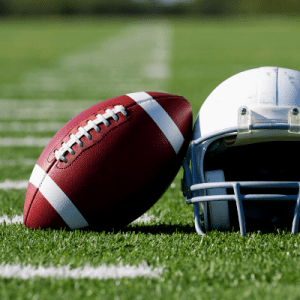 ATTENTION: Parents of 6th Graders Vaccination required for all students entering 7th grade ALL students entering the 7th grade for the upcoming school year must show proof of the TDaP vaccination by presenting an updated Mississippi FORM 121 Certificate of Immunization Compliance. Please make sure ALL vaccines are listed on the same FORM 121. Do not bring an updated FORM 121 listing only the new TDaP vaccine. This includes new students, current students, and transfer students in both public and private schools. The TDaP vaccination provides protection against tetanus, diphtheria, and whooping cough (pertussis), a highly contagious disease that can be severe or fatal especially in young children. Your doctor or other health care provider can arrange a TDaP vaccination for you and should provide the required FORM 121 certificate at the time of your child's vaccination. You can also visit any county health department to receive the TDaP vaccination. The Lee County Health Department is located at 532 S Church Street in Tupelo. Their phone number is 662-841-9096. The Monroe County Health Department is located at 1300 MS-25 in Amory. Their phone number is 662-256-5341. Their hours are 8:00am - 5pm on Monday through Friday, and you must make an appointment. Vaccines for Children (VFC) providers and county health departments throughout the state provide the TDaP vaccination for $10 per child. The TDaP vaccine is covered for children with Medicaid at the County Health Department. Again, EVERY student entering seventh grade must have documentation (FORM 121) from a physician verifying they have a recent TDaP vaccination in order to return to school in August. More information about this vaccination can be found at
www.cdc.gov
.

NHS Baseball Camp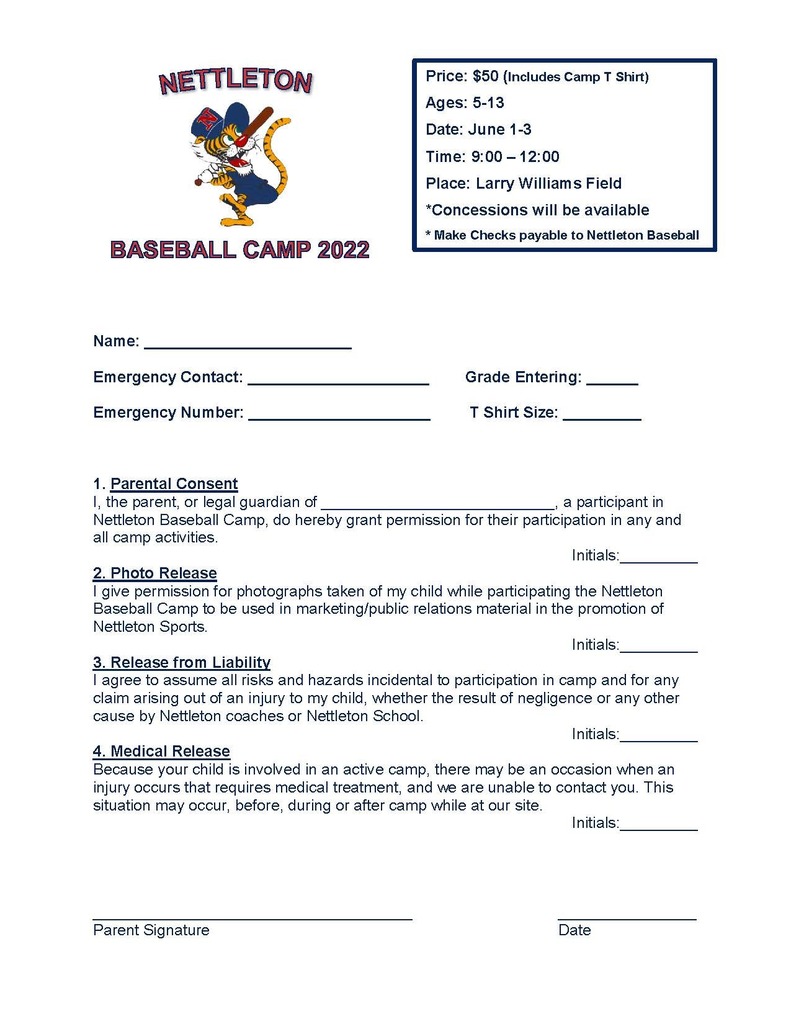 Makeup Baseball tryouts are Tuesday, May 31, at 5:00pm at the baseball field.
Getting ready for Graduation 2022!